MPACKTING
L50

mPackting is an Italian based company that focuses on offering full packaging solutions for the beauty and cosmetic industry. mPackting branches from Minelli Group, a group with more than 85 years of tradition in successfully designing, producing and exporting premium custom-made wood components. We focus on a "360°" approach, starting from the design and ending with the materials we use, providing our customers with premium and truly sustainable packaging and aiming towards a zero-emission product.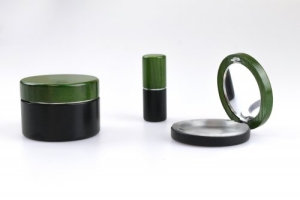 Silva Collection
Silva is an innovative beauty packaging collection comprehending a lipstick, a jar and a compact, to cover all the essentials in a beauty purse. Designig the Silva collection we collaborated with Thierry De Baschmakoff,following a method we called "D.R.E.A.M.", (Distribution, Resources, End-of-life, Awareness, Manufacturing) to make an impact in the packaging industry. Silva revolves around a refill system and plant based materials like wood, cork and our own material bio-polymer blend: mBlack®
LegnaPin Cap
LegnaPin is a mono-material cap made with FSC certified wood. The traditional plastic capsule is replaced by one or three food-contact cylinders made of cork. This solution creates a strong friction with the head of the perfume pump and it guarantees a perfect closure. A new sustainable innovation is born, which does not use plastics, resins nor glue.
This is a universal solution which adapts to any pump diameter: in fact it doesn't require the development of new molds for every new design.