SP LABS (THE INNOVATION COMPANY)
B12

SP Labs covers 3 areas of expertise : suncare formulas, anti-ageing UVA formulas and formulas with visual effects using highly innovative advanced technologies.

SP Labs does not offer you the best cosmetic formulas on the market, which is already saturated with beauty products, but a real expertise on formulas and their effectiveness.

In Vivo and In Situ testing methods give an incredible advantage over the competition.
Lip Cream
Give your lips a second life with our Lip Cream Repair, which will become the essential tool in your makeup bag. Its LLWP (Low Level Water Phase) formula offers a discreet finish and makes your lips perfectly hydrated. Indeed, it protects them from dehydration even after 3 hours of application. It helps to repair the fragile skin of the lips in winter and summer and reduces visible wrinkles on the lips thanks to our Fiflow® SC. It offers a light and pleasant texture.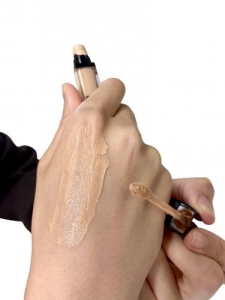 Point of Correction®
This anhydrous corrector has a double action. It corrects facial imperfections like a filler and adds points of light. Thanks to Fiflow®, it is an anti-ageing product of choice with an action on the depth (-50%) and width (+17%) of wrinkles. It absorbs up to 450nm, protecting against long UVA rays, which are dangerous and responsible for the signs of ageing. As far as UVBs are concerned, an SPF 27 (UVA Pass) is reached. Microcirculation increases (+31%) for better cell regeneration.