METAPACK
B26

Since 1998, Metapack creates and develops innovative, technical and luxurious packaging and accessories. Metapack first started with metal promotional items (zamac) and has been able, over the years, to respond and adapt to the growing demand of its customers in the perfume industry and to diversify its expertise (brass, aluminum, steel, plastic and leather). Each selected suppliers respect local and international ethical and environmental standards. These strong partnerships have allowed Metapack to develop its know-how and to become one of the leaders in the creation and manufacturing of custom components for luxury packaging.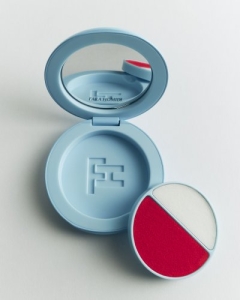 Fara Homidi make up compact
The famous make-up artist Fara Homidi, trusted Metapack for the development of her brand. In the quest of eco-responsibility and sustainability, this fully refillable compact is made of Zamak and bioplastic with a turquoise blue shiny lacquering finish. The refills are orientated in the compact through the logo engraving. Its curved edges provide an ergonomic shape which is comfortable to handle, complemented with a magnetic closure.
La Bouche Rouge lipstick case
Metapack achieved La Bouche Rouge's challenge by conceiving a plastic-free refillable lipstick case. Its stainless steel tube is covered with upcycled leather in an artisanal way. With an infinite choice of colours and textures, this lipstick becomes an elegant luxury leather piece. Finally, its use is made intuitive and delicate through a magnetised system.