PENNELLI FARO SRL
H12

Pennelli Faro S.r.l. is an internationally recognized manufacturer of brushes and accessories for fine arts and cosmetics.
Pennelli Faro has the headquarters and the entire production process in Italy, producing some of the finest brushes on the market since 1971.

Pennelli Faro has a wide range of brushes in its standard collections to choose from, but offering also the possibility to have fully customized and tailor made products.
Our reliable experience and attentive customer care allow us to meet the requirements and needs of all our clients.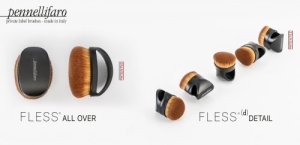 FLESS® - Innovation is flexible
FLESS is the first brush that is ergonomic like your fingertips, flexible like a sponge, professional like a brush.
The patented brush range that redefined the rules of makeup applicators. Available in two versions: FLESS ALL OVER and FLESS DDETAIL.

Technical features
Flexible handle with no metal components
High density delicate and gentle fibres for compactness
Suitable for most sensitive skins
It releases the perfect quantity of makeup for a flawless finish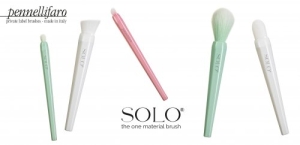 SOLO
SOLO® is the one material brush, made from post-consumer waste water bottles.
For the first time the synthetic fibre is made from 100% recycled and recyclable grinded plastic, the same is used for the handle and the ferrule.
At the end of its life, SOLO® can be disposed of with a simple gesture, without having to separate or differentiate.
no use of metal components
no use of glues in the production process
no inks in decoration

it has also 0 environmental impact and it is infinitely recyclable