At Cosmetics Inspiration & Creation we have been tracking the beauty-as-empowerment trend, noting the elemental need for products that bring wellness through joy. A quick dopamine hit goes a long way in a post-crisis society, and consumers are discovering new ways in which to access pleasure through makeup and boldly express their individuality.
We've been following the upsurge in TikTokers creatively articulating a sense of unfiltered joy through bold and colorful looks applied with incredible artistry. In recent months we have watched nail art grow from a niche into a mainstream form of self-expression, and we have traced the latest revolution of luxury color from understated to exaggerated.
Consumers are Pleasure Dosing their way to wellness with products that approach the art of beauty as an act of self-expression. Brilliant neons, chameleonic colors, face stickers, nail art and body adornments – are all rising on the consumer radar. Spate data shows an uptick in searches for Glitter Eyeliner (+41,8%), Rhinestone Nails (+26,3%) and Eye Gems ( +38,4%). Bold lip and eye colors are also on the up – searches for Orange Lipstick are +161,6% and Green is up +38,2%.
Freed from restrictions there is a deep desire to revel in color and creativity, and use makeup as a tool of transformation. Brands must develop products that deliver an instant shot of happiness, and meet the demand for unrestrained glamor.
We see Pleasure Dosing developing in three distinct pathways:
Dopamine Reality: Superbrights popped at NYFW, where designers played with autumn-winter conventions to deliver collections packed with saturated hues. There was brilliant yellow and citrus orange, Yves Klein blue and hot purple – colors that are resonating with pleasure-seeking consumers. Neon eyeliners, ultra-pigmented candy-colored lipsticks and punchy, one-swipe eye products can deliver the beauty dopamine hit that consumers are craving.
Luxury Reinvented: Consumers are creating an aesthetic diversion from the At Home lifestyle of the last two years. Mastering sophisticated looks with new beauty accents, inventive finishes and alluring enhancements, luxury is reinvented for the new Age of Hedonism. With searches for "Glam Makeup Look" up +76.3% (source: Spate – YoY – End April 2022), consumers are opting for saturated lip colours, glitter cut creases, high shimmer complexions and metallic chrome finishes – Studio 54 filtered through a Y2K lens. Features are enhanced and turned up to the max, with volumizing and plumping products that deliver ultimate sophistication and look-at-me moments. And as the masks come off, lips are once again the focus.
Festival of Fakery: Freedom unleashes the beauty peacocks, who are taking the opportunity to express themselves with a maximalist's approach armed with lavish adornments, inlcuding face stickers, body gems and false, embellished nails. This is the armory of pleasurable transformation, enabling consumers to creatively switch up their looks whenever the urge takes hold. These products are also interesting in the context of an increasingly 2D, digitalised world, reintroducing three-dimensional color, opulence and texture into our daily lives.
Don't miss the conference/ workshop of Cosmetics Inspiration & Creation at the MakeUp in Paris on June 16,2022 at 4:00 pm. In this conference, Leila Rochet, founder and Chief Inspiration Officer of Cosmetics Inspiration & Creation, will decode the Pleasure Dosing trend and what it means for the industry, and share examples from the latest international launches. Leila will be joined by Julien Lutz of Spate, the partner company of the agency, who will share the latest market data from the Spate research tool.
Conference of Cosmetics Inspiration & Creation with the participation of Spate.
---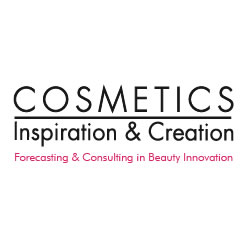 Cosmetics Inspiration & Creation
Cosmetics Inspiration & Creation is an international trend forecasting and consulting agency founded in Paris in 2007. The agency is dedicated to driving beauty and wellness innovation, helping brands identify new pathways and realize long-term growth through strategic foresight and trend inspiration.
In a consultancy capacity, our global team of industry experts, cultural strategists, product developers, and beauty chemists works closely with brands to inspire new product directions and build innovative concepts. We have worked alongside the R&D departments of some of the world's leading makeup and skincare brands, to elevate their scientific message and inspire future-proofed innovation.