MakeUp in Paris, it's in one week at the Carrousel du Louvre! An intense, rich and exciting program of conferences, workshops, animations and exhibitors of choice await you.
From ingredients to packaging, through trends, industrialization, sustainable development, everything you need to know about new developments in the world of beauty. Plan your visit now and select the conferences you want to attend.
We look forward to welcoming you, join us on October 2021!
Conferences' Program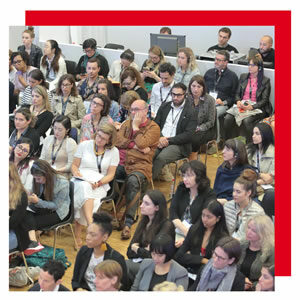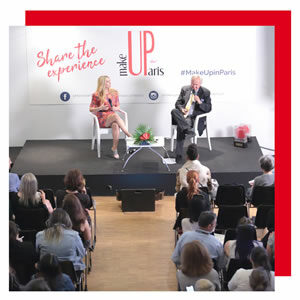 Wednesday, October 20th
8:30 – 10:30
Creativity Trends & Innovation 2021: a MakeUp in Paris & CEW opening conference to benefit CEW Beauty Center
MakeUp in Paris and CEW France will be happy to meet you for an opening conference to support the CEW France Beauty Centers. Your contribution will be a donation of 18 euros (or more :)) entirely devoted to the Beauty Centers (1st program of free individual socio-aesthetic care in hospitals). A conference open to all exhibitors and visitors of the show, we expect you all!
• Leila ROCHET – Founder of Cosmetic Inspiration et Creation
• Aude de LIVONNIÈRE – President of LIVCER
• Luisa OLIVIA – Phar. D. MSc R&D Technical Marketing International Consultant
• Nathalie DESSIRIER – Marketing Manager chez MS BEAUTILAB
• Max HERLANT – Directeur Artistique Maquilleur
• Annie BEGNAUD – Global Business Development & Innovation Strategist, AB agency
• Laurence MOULIN – Général Manager at CEW FRANCE

10:45 – 11:30
CosmeticsCoCreation: a new work Method
• Elie PAPIERNIK – CEO of Centdegres
• Aurélie BANCO – Founder of the collaborative cosmetic lab CO-LAB-ORA
• Joseph REPAIN– CEO of Firstgen

11:45 – 12:30
Sustainable materials: what sources and resources?
• Charles Emmanuel GOUNOD – CEO & Founder of Beautyworld Connexions
• Françoise DASSETTO – EFERDAY
• Sabine DURAND – Editorial Director at Infopro Digital
• Daniel SACLIER – Founder MY ID CONSULT – Expert in product development and packaging sourcing (L'Oréal, Guerlain, LVMH)
• Florence DANCOISNE General Manager Europe of KNOLL PACKAGING

13:00 – 13:45
What are the key aesthetic codes to translate the societal changes at play?
• Virginie CORBASSON – Head of International Sales and Business Development at CARLIN
14:00 – 14:45
Colors of China – Colors for China
• Florence BERNARDIN – Owner of ASIA COSMELAB

15:00 – 15:45
Formulation of the future: hybrid, skincare
• Siska VON SAXENBURG – Co-founder at Profession bien-être
Thursday, October 21st
10:30 – 11:15
Marketing Intelligence: what will be the big launches and new players this fall that will shape the future?
• Laurence BACILIERI – CEO of Cosmetic Ressources
• Lorette ALFANDARY – Expert
11:30 – 12:15
Polycentric Impact: catering to Cultural Diversity
• Sandrine PERRAUD – Global Executive Director at BEAUTYSTREAMS I Senior Innovation & Beauty Consultant

13:00 – 13:45
Closing CosmeticsCoCreation Contest
• Elie PAPIERNIK – CEO of Centdegres
• Aurélie BANCO – Founder of the collaborative cosmetic lab CO-LAB-ORA
• Joseph REPAIN– CEO of Firstgen

14:00 – 14:45
Deciphering the industry's challenges & new consumer attitudes post Covid19
• Audrey ROULIN Beauty Director at NELLY RODI

15:00 – 15:45
IT PRODUCTS MakeUp in Paris 2021: drivers and barriers to innovation in make-up & skincare
• Charlotte MARION – Product – Innovation – Transformation expert ex CHANEL, INTERCOS, DIOR, Y.ROCHER

Join us for MakeUp in Paris, at the Carrousel du Louvre on 20 & 21 October 2021 !