The IT PRODUCTS are a true institution on MakeUp in shows worldwide, and recognized as a reference for quality and product differentiation by beauty industry professionals.
These prizes are awarded by worldwide experts in accessories, packaging, formulation and full service.
Annually, exhibitors, suppliers and manufacturers submit their latest innovations.
All these novelties are tested in terms of process, application, additional value compared to existing products and sustainability.
Last Thursday, September 16th, 8 international experts were gathered to perpetuate this tradition.
For this edition: no less than 98 products presented by 44 exhibitors were carefully examined on their innovative feature.
Discover the selected products by our jury at MakeUp in Paris, on October 20th and 21st!
A call for creativity
As source of inspiration for the show's visitors, these 98 novelties (more than 30% of which are Skincare) reflect the expectations of the industry with:
• 49 formulations that respond to the needs for more natural formulas boosting, enhancing the skin or providing makeup radiant as if it was made with chemical components.
• 23 full-service solutions with a significant increase in COSMOS-certified products and 100% eco-responsible or "plastic free" products.
• 21 packagings with hybrid solutions adaptable to skincare or makeup formulas whose recyclability is continuously improving, particularly through the use of single materials.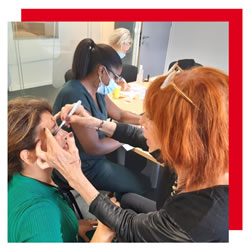 A detailed and meticulous analysis
Testing for over 3 hours all these amazing products, we are very thankful to our experts:
• Dany Sanz – Founder of Make Up for Ever, consultant in product development and formulation.
• Daniel Saclier – Expert in product development and packaging sourcing (L'Oréal, Guerlain, LVMH).
• Luisa Oliva – Formulation specialist and training teacher in cosmetic chemistry and product development.
• Jean-Louis Mathiez – Packaging expert, creator of the Cinqpats agency.
• Charlotte Marion – Product and innovation specialist (Yves Rocher, Dior, Chanel) and project management.
• Charles-Emmanuel Gounod – Expert in B2B international trade in the beauty sector.
• Audrey Ducardonnet– Freelancer and expert in textures.
• Florence Bernardin – Founder of Asia Cosme Lab, expert in Asian cosmetics.
• Aurélie Banco – Founder of CO-LAB-ORA, a collaborative and ethical cosmetic laboratory.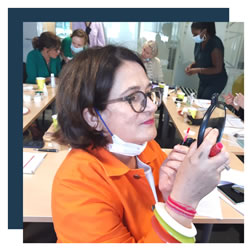 Let's meet on October 20th & 21st to experience the selection on site!