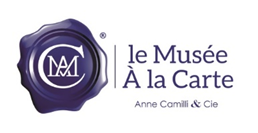 100 YEARS OF BEAUTY 1922-2022
In partnership with the « Le Musée Á La Carte » MakeUp in Paris will feature for the first time a selection of fashion and beauty heritage objects from the Art Deco period coming from private collections. This artistically rich period deeply influenced beauty brands and manufacturers in terms of formulation, packaging, behavior and even rituals. And if until the First World War, women had a porcelain complexion, from the 1920s on, beauty codes evolved. We are entering the era of the Modern Woman!
2022 offers us the opportunity to celebrate the centenary of the publication of Victor Margueritte's novel, The Bachelor Girl (French: La Garçonne), which in 1922 made headlines. Considered a literary and social phenomenon and readily described by its publisher Flammarion as "the most scandalous novel ever written," this novel was an almost instant success, setting sales records in France and later in England that were rarely equaled before it also found an international audience. It was translated into 13 languages and remains the best-seller of the Roaring Twenties.
La Garçonne, mythical figure of the 20s and 30s described in this novel, constitutes a revolution! A new woman is born : showing a free sexuality and seducing as much by her audacious behavior as by her new allure.
La Garçonne wears short hair, new beauty gestures, waxes, uses deodorant and makeup. She shows off a slim figure and flaunts her legs. A real enthusiasm for sports has arisen. Beauty now goes through sports and makeup becomes a symbol of emancipation. Women's magazines were full of beauty tips and cosmetic advertisements. In 1921, Vogue wrote, "It has now become almost essential for every well-bred woman to master the use of powder and also red." So when « La Garçonne » were putting on lipstick in the mid-1920s, they were also lay the famous "the mouth or the eyes, but not both" theorem to rest, opting for mascara applied with a brush, while the eye is stretched by blending a little eye shadow …