Accessibility at MakeUp in LosAngeles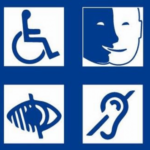 At MakeUp in LosAngeles, we are committed to providing an inclusive and welcoming environment for all attendees, including those with disabilities. In collaboration with the Los Angeles Convention Center (LACC), we have taken several measures to ensure that everyone can enjoy our event to the fullest.
Our Accessibility Initiatives Include:
Dedicated contact person:
We have a dedicated contact person to assist and encourage individuals with disabilities to plan their customized visit. We are here to make your experience as seamless as possible.
For any inquiries please refer to Logan Tharpe : logan.tharpe@infopro-digital.com

Onsite Personalized Assistance:
Our team members are available to accompany you on a tailored tour of the event, providing any necessary assistance. If you need a personalized visit, you can reserve it through Logan Tharpe at : logan.tharpe@infopro-digital.com

Reserved Seating in Conference Rooms:
We offer reserved seating at the front of conference halls to ensure optimal accessibility for all.

Wheelchair Availability:
Wheelchairs are available for those who may need them, further enhancing accessibility.

Accessible Entrances and Exits:
The LACC, our venue partner, has automatic entry and exit doors, along with ADA compliant manual doors for smooth access.

Elevator Access:
Elevators within the LACC provide access to all areas of the facility.

Accessible Amenities:
Throughout the venue, you'll find ADA compliant drinking fountains, clear signage for elevators and restrooms, and accessible restrooms for your convenience.

Foyer Wheelchair Lift:
The LACC offers a wheelchair lift in the foyer, making mobility within the facility hassle-free.

At MakeUp in LosAngeles, we take pride in our collaboration with the LACC, an ADA-compliant venue. Our shared commitment to accessibility is rooted in the belief that diversity is an invaluable asset to our industry. We are dedicated to creating inclusive experiences for all attendees.
If you have specific requirements, require assistance, or have questions regarding accessibility during your visit, please do not hesitate to reach out to us. Your comfort and accessibility are our utmost priorities.
We eagerly anticipate welcoming you to MakeUp in LosAngeles, where we are committed to delivering an outstanding and accessible experience.