LIBO COSMETICS CO LTD
G40

LIBO Cosmetics Co., Ltd is a global leader in designing and manufacturing cosmetics packaging for compact, lipstick, mascara, lip gloss, tubes, glass packaging, accessory, and much more. The company has superb experience in the beauty industry, offering well-known brands with quality cosmetics packaging and turnkey solutions with world-class design services to help brands stand out in the market.
With cutting-edge facilities and offices worldwide located in China, Taiwan, and the US that cover over 40,000 square meters and employ over 500 professionals, the company provides highly innovative and cost-effective packaging solutions to meet customers' expectations and beyond.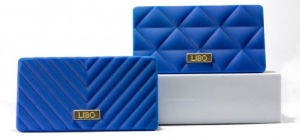 Clio Series
1.The leather emulates leather-effect finishes a clutch palette d chevron and diamond pattern designs. 

2.Designed with clean and simple lines that highlights a timeless minimalist aesthetic.  

3.With gold-tone logo embellishment that are customizable to highlight brand recognition.
Oliver Series
1.Dive into elegance with our new collection inspired by the timeless charm of Olive from Popeye the Sailor

2.Embrace the strengh and grace of Olive through unique designs, capturing her iconic style.

3.Discover a blend of classic and contemporary, atribute to an everlasting symbol of beauty.