Remember last year, lip shades were all about complexion-matching and nude shades, as well as muted, low saturated tones. This Spring-Summer season, the lip category is being redefined by textures and finishes.
Trendy looks
Plumpy shiny lips are in trend, with a clear shift from matte to shiny lips now that masks are becoming optional. In China, natural watery shine is hot: a glossy, high-shine finish that creates plump lips for pure & sexy looks. In Japan, plump and fresh gloss is the trendy look, as consumers are back into positive mood with liquid rouges that color the lips with vivid colors, juicy luster, and gorgeous shine. In Korea, new shine lip products are evolving into a more sophisticated level of shine.
New vocab
New vocabulary and communication include Glazed lips – upgraded from the previous dewy glow lips, this season we see a focus on volume & smooth, glossy surface, with new launches like Glaze Lip Changer by TWO SLASH FOUR. The Chinese brand PINK BEAR introduces new wording like panna cotta creamy dewy shine for their latest launch, Jelly Lipstick.
Sensoriality
There is also a new aspect to this rebirth of shine in Asia. Not only do new technologies allow for highly lasting & ultra-moisturizing formulas, but sensoriality also becomes a game-changer in the approach: warming & cooling sensation or delicious flavors. JILL STUART Crystal Bloom Lip Bouquet Serum contains crystal coating ingredients that add luster to the lips. With a pleasant, cool feeling and a plumping effect, this tinted lip serum leaves lips plump and full. It contains ingredients that feel warm (Vanillyl Butyl Ether) and cool (Menthoxypropanediol) on the lips.
L'OREAL PARIS Color Rich Slim X L'Eclair De Genie (Limited Edition) is like a touch of sweetness on the lips, offering a gourmet experience that stimulates the senses of look, smell, and touch. The limited edition has a shimmery shine like the gold foil on the éclair. The glossy finish creates a caramel-soft shine on lips.
Evolution of traditional textures
Tint tends to be associated with matte finish, high color pigmentation and extreme long-lastingness. However it is evolving toward new finishes such as softly tinted plump « jelly » lips with new products like AMUSE Jell-Fit Tint , a lip tint that adheres tightly to the lips with a clear, voluminous & bouncy jelly-like finish, maintaining moisturizing effect & clear color for 12h.
JILL STUART also launched Timeless Glow Rouge Tint: a tinted rouge that feels refreshing to the touch with a Soap Bubble Glow and translucent color that lasts.
Gloss evolves to become lipsticks with lip gloss benefits like ChineseINTO YOU Mirror Light Solid Lip Gloss, the brand's first solid lip gloss. This product is an icy gloss in vivid colors that is good at hiding fine lines. With an exclusive low MP wax technology, the lipstick paste will melt into gloss the moment it touches the lips.
Of course, matte also remains important, especially in China, with the continuous love for mud textures and the new trendy blurred matte finish with perfectly imperfect edges.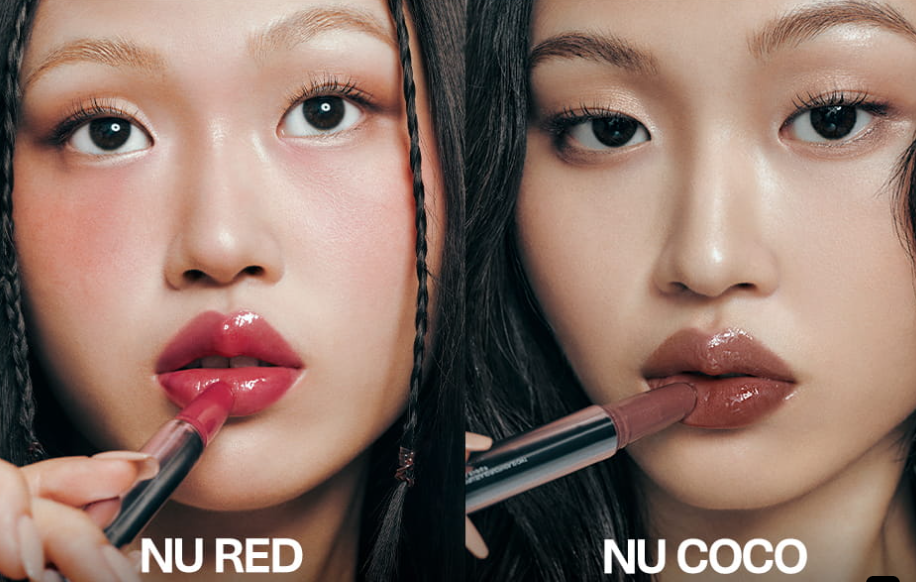 ---
Asia Cosme Lab
Asia Cosme Lab is a French trend and innovation consulting agency, expert in Asian cosmetic markets:
– A unique French perspective on the Asian beauty market
– Enriched by a multicultural and enthusiastic team of Asian beauty experts based in Paris.
– Offering since 2003 decoding and insights into key trends in the Asian beauty markets
– Offering trend analysis and tailor-made innovation consulting to boost and challenge your inspiration to create tomorrow's best products.