As consumers become more knowledgeable and curious, their expectations, especially in the world of beauty, become increasingly complex and lines start to blur between what used to be clear cut territories. Consumers now adhere less to strict categories; instead, they seek out products that cater precisely to their individual needs.
For instance, consumers have recently shown a growing interest in understanding and replicating their face care knowledge in body care. This leads to the development of sophisticated body care routines and targeted strategies to address specific concerns, as well as the creation of rituals to enhance overall well-being.
In fact, the boundaries between different concerns and universes are becoming more indistinct, and this change is particularly noticeable in the anti-aging category.
#1 Reshaping the Anti-Aging Category: embracing a holistic approach to health and beauty
In today's fast-paced world, health and wellness have taken center stage in consumers' lives. This shift is spilling over into the beauty industry. The concept of "anti-aging" has evolved into something more encompassing. It's not just about fixing signs of aging with beauty products; it's also about delaying the overall aging process. Additionally, consumers are increasingly aware of the vital role of internal skin health in maintaining a youthful appearance. Consequently, they're crafting new and unique age management strategies that go beyond the traditional scope of beauty; More and more users rather focus on strategies mixing beauty, health, and wellness concerns altogether.
(US) I'm 35 next week and I like to think I look a lot younger. I've been a vegetarian for 19 years, runner for 16 years and I don't drink alcohol. I swear these things, plus having a light happy heart help 🙂 (YouTube)
#2 New Anti-Aging Strategies: Freezing vs. Reversing signs of aging
There are two powerful strategies that users are embracing:
Freezing signs of aging: Users seek to maintain a youthful appearance & mind; This approach focuses on addressing non-visible signs of aging and aims to preserve the skin, body and mental condition before any noticeable aging signs emerge.
Reversing aging signs: As signs of aging become apparent, consumers turn to reinvigoration strategies to address existing concerns. This is the most prevalent solution employed once the appearance of aging signs prompts action.
Interestingly, some knowledgeable users embrace a combination of both strategies to achieve a comprehensive approach towards maintaining healthy and flawless skin.
(US) I have been using this product since my early twenties, I just turned 29. I often receive compliments on how I look the same as I did in high school/college and that whatever I'm doing to keep doing it. Never too young to start anti-aging! (Retailer website)
#3 An Integrated Anti-Aging Ecosystem in Demand
While skincare products remain essential in addressing aging concerns, many users are also prioritizing supplements and dietary choices as means to boost metabolism, delay overall aging, or correct aging signs. These options have gained popularity due to the users' perception of their connection to effective anti-aging solutions. Additionally, users who value cutting-edge technology often turn to clinical procedures and at-home devices for immediate and visible results.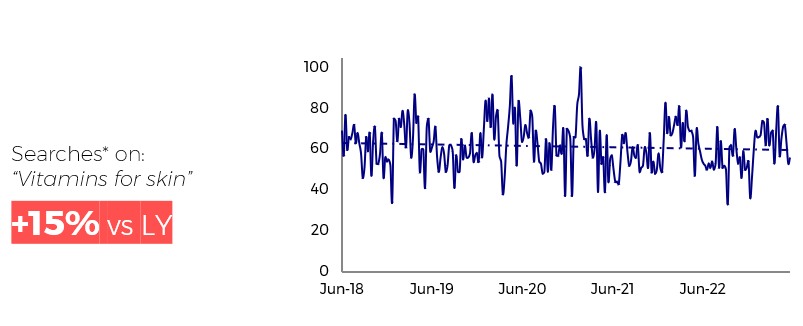 Query: Vitamins for skin (US) over the past 5years – Dynvibe Figures : internal software based on Search Data from Google trends
(KR) My skin feels dull as I get older. I asked my friend who has good skin, and she said she takes care of her skin and takes nutritional supplements such as vitamin C. Now I'm going to drink a lot of water, take nutritional supplements, and exercise. (Forum)
(US) I only started taking this supplement after the research I have done. Then, a dermatologist recommended it to me. I've been using it for 2 years… and it seems to be working quite well. Nothing miraculous, but my skin is healthy and not as wrinkled as my peers. (Retailer website)
The beauty industry keeps experiencing significant transitions and changes. Understanding consumers' shifting needs and mindsets unveils many opportunities for brands to embody new territories, investigate new product categories, reshape narratives and claims or collaborate with other industries.
---
Dynvibe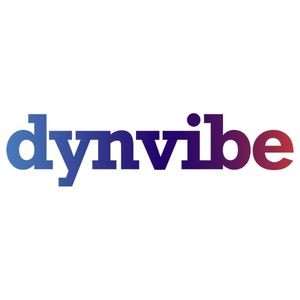 ounded in 2009, Dynvibe is a leading social intelligence agency in France. Thanks to the expertise acquired on social listening platforms, we focus on 2 audiences:
· Collecting and analysing spontaneous consumer conversations on the social sphere;
· Identifying and monitoring communities of expert influencers, the "changemakers".
Combining both technology and human expertise, Dynvibe detects trends and weak signals, and transforms them into actionable insights to address the market issues of brands and support them in their strategic challenges.
Present in more than 80 countries through our international network of 85 analysts, all native and experts in their domestic market, we have already assisted more than 70 brands.