MakeUp in NewYork 2021, which will take place on September 22nd and 23rd at the Javits Center, will be the ONLY BtoB event exclusively dedicated to skincare and makeup on the East Coast.
You will see all the key players of the market and live the unique MakeUp in experience: the latest product launches, innovations, animations, conferences and global beauty trends.
The best manufacturers in formulation, packaging, full-service, accessories, ingredients and design will present their newest innovations and product lines. Not to be missed: Beauty activities, colorful workshops and surprises to discover!
Tailor-made for the BtoB cosmetics industry and its unique format, MakeUp in NewYork will also respect the strict safety and hygiene regulations enabling you to do business in a serene and comfortable environment.
Check out last year's ground-breaking 9th edition: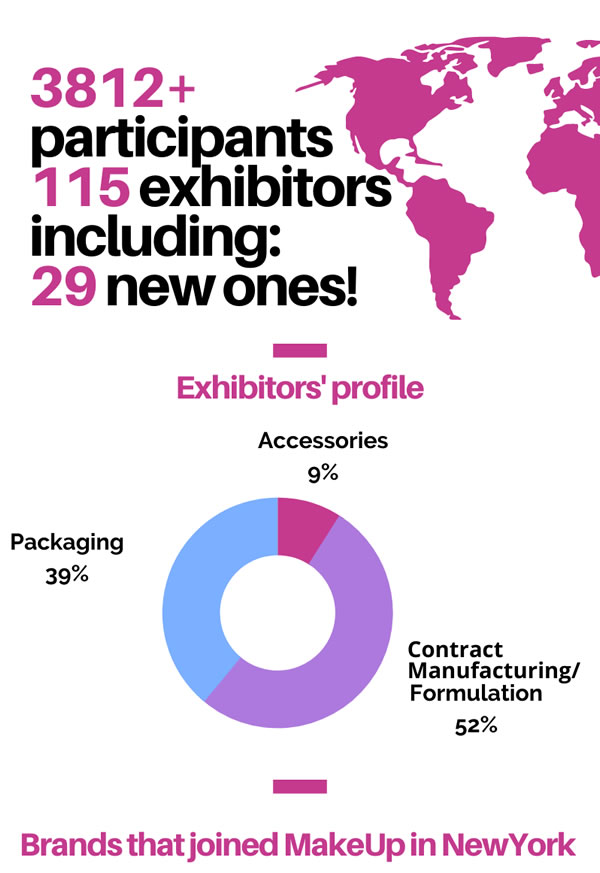 24K COSMETICS, 3LAB
A BEAUTY BUILDER, ABLE C& C, ABSOLUTE NEW YORK, ACE BEAUTY, AJCRIMSONBEAUTY, AJILABEAUTY, ALAMAR COSMETICS, ALCONE COMPANY, ALMAR, AMAYA COSMETICS, AMAZING LASH STUDIO, AMIKA, AMORE PACIFIC, AMWAY GLOBAL BEAUTY, AMYRIS/BIOSSANCE, ANCIENT NITES COSMETIX, ANJALI MD SKINCARE, ANNIE INTERNATIONAL, ANOMA COSMETICS, ANTONYM COSMETICS, AQUAREVEAL, ARAMIS, ARBONNE, AROMYA, ARON COSMETICS, ARRAY, ARTE COSMETICA, ARTIS BRUSH, AS BEAUTY COMPANY, ASTARTÉ COSMETICS, ASTHETIQUE, ASTRAL BRANDS, AUGUSTINUS BADER, AURA, AVON, AYLA MIA COSMETICS
BABY BOOMER COSMETICS, BAIKAL BEAUTY GROUP, BARE MINERALS, BARNEYS NEW YORK, BASTIDE, BEAUTICARE AND COLOR, BEAUTY D, BEAUTY ELEMENTS, BEAUTY FORWARD, BEAUTY IS ME, BEAUTY PARTNERS LLC, BEAUTY RELEAF, BEAUTY RX, BEAUTY SOLUTIONS, BEAUTYSTAT COSMETICS, BECCA COSMETICS, BH COSMETICS, BIODIVERSITÉ DO BRASIL, BIRCHBOX, BK BEAUTY, BLANK CANVAS COSMETICS, BLING LASH NEW YORK, BLOOM BEAUTY, BLUEMERCURY, BOBBI BROWN, BODY STONES, BOTICARIO GROUP, BRADSHAW HOME, BREAKUPS TO MAKEUP, BSLY BEAUTY, BURT'S BEES, BUXOM COSMETICS, BYROE
CAI PARA MI, CAMARA AUNIQUE BEAUTY, CAROLINE CHU, CATRICE COSMETICS, CHANEL, CHANTECAILLE, CHARLOTTE TILBURY, CHRISTIAN AUDETTE, CHRISTIAN DIOR, CINDERELLA BRIDEZ, CLARITYANDCO, CLEAN BEAUTY, CLEAN BEAUTY COLLECTIVE, CLEAR FOR ME, CLINIQUE, COLLEEN ROTHSCHILD BEAUTY, COLORON PROFESSIONAL, COMBE INCORPORATED, CONTEMPO, COSNOVA, COTY, COVER FX, CREDO BEAUTY
DANDELION CLOCKS, DEAR, DEBORAH LIPPMANN, DECK OF SCARLET, DEMARCO BEAUTY, DERMELECT, DEVACURL, DK COSMETICS, DOLL 10 BEAUTY, DOME BEAUTY, DOUCCE COSMETICS
E. GLUCK CORP, E. L. F. COSMETICS, EBIN, ECOCARE USA, ED'S COSMETICS, ELEMENT, ELEMENTARY SKINCARE, ELLEN LANGE SKIN SCIENCE, ELSI SKIN HEALTH, EM COSMETICS, EMILIA PERSONAL CARE, EMILIA SHADES COSMETICS, EMILIE HEATHE, ENCHANTE ACCESSORIES, EOS PRODUCTS, EPIC LIGHT BEAUTY, ERNO LASZLO, ESTEE LAUDER COMPANIES, ESTHETICA MD, EVALINA BEAUTY, EVE LOM (SPACE BRANDS), EVERGREENENTERPRISES, EVERYHUE BEAUTY, EYEMETICS
FACET COSMETICS, FARMACY BEAUTY, FASHION GAL, FEKKAI & BASTIDE, FINDING FERDINAND, FOWARD WITH DESIGN, FRAGRANCENET. COM, FRANK BODY, FRESAME COSMETICS, FRESCABELLA, FRESH, FUR
GEE BEAUTY, GENUINE GLOW, GEORGINA BILLINGTON BEAUTY, GISENATURA, GLAM BEAUTY, GLAMHER STUDIOS, GLAMSQUAD, GLAMSTER, GLOSSIER, GLOSSLAB, GLOW CONCEPT, GLOW RECIPE, GOLDEN COSMETICS, GRANDE COSMETICS, GROUPE MARCELLE COSMETICS, GSK CONSUMER HEALTH, GUTHY RENKER
H& M, HADAKA BEAUTY LTD, HARMLESS HAIRCARE, HARRY'S, HAUS LABORATORIES, HEAT MAKES SENSE, HEAVEN SCENT, HERO COSMETICS, HOLISTIK WELLNESS, HONEYBEE GARDENS, HOURGLASS COSMETICS, HUDA BEAUTY, HYNT BEAUTY
Among many other…