Welcoming our special guest : The Society of Cosmetics Chemists
MakeUp in NewYork is pleased to announce its continued collaboration withThe Society of Cosmetic Chemists (SCC)!  After a highly successful presentation on "Cosmetic Ingredient Trends" at MakeUp in LosAngeles, the SCC is excited to bring togethertwo panels of experts for MakeUp in NewYork who will discuss cosmetics ingredients and the current legal issues facing product performance claims made by brand owners and formulators. As the premier organization for all things cosmetic-science related, they look forward to continuing to share their knowledge and expertise with all of you. Whether you are a rising young brand or a legacy brand, make sure to visit Society of Cosmetics Chemist's booth and participate to their workshops. (Stay tuned to discover the schedule and topics very soon !) Join us on 14 & 15 September 2022, at MakeUp in NewYork and discover all their insights about cosmetics ingredients during their workshop sessions at the River Pavilion, Javits Center!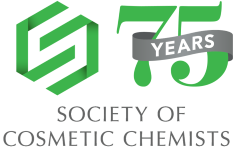 About Society of Cosmetics Chemists…
The SCC is the oldest and largest non-profit individual membership organization serving the professional development, education, career development, and networking needs of cosmetics and personal care scientific professionals.
For more than 75 years, we have been the "brains" behind the beauty industry!
Their members include R&D professionals, formulators, contract manufacturers, ingredient suppliers, technical sales/marketing specialists, consultants, testing, claims & regulatory professionals, packaging professionals, academicians and more. You can learn more about SCC by visiting their booth at MakeUp in NewYork or checking out their website at www.scconline.org.
For more info on the workshop program click here!
Co-create with the stakeholders of the industry at MakeUp in NewYork, 14 & 15 September 2022!