After last year's success, the 2023 edition of MakeUp in LosAngeles promises to be exceptional: the show is already fully booked for exhibitors! For the first time ever, a waiting list has even been opened, reflecting the current dynamism of the cosmetics market, and the confidence of key players in the industry.
MakeUp in LosAngeles will be held on February 16 and 17, 2023 at the LA Convention Center.
Skincare brands, makeup brands, indie brands, or historical beauty brands: MakeUp in LosAngeles is your show!
Online registration is now open!
5 reasons to register now: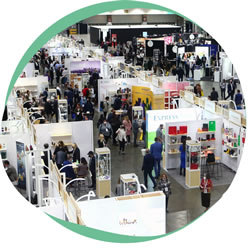 Come and get inspired
New applicators, new gestures, new galenics, ingredients that will make the difference in your formulas or your colors: MakeUp in LosAngeles is a hub of creativity.
Exhibitors come from all over the world to present their know-how, offer their latest innovations, and provide answers to your specific needs.
Find the right solutions for your projects
Current or future partners: the key players in the beauty industry will be at the LA Convention Center.
Whether they are formulation suppliers/contract manufacturers, turnkey solutions, accessories, packaging and ingredients: more than 130 exhibitors will be present with a rich offer of products, proposals and alternatives to meet all your challenges as a brand, and anticipate all your customers' demands.
During two days, you will find answers to your various problems and advice in your product development. At each step of your specifications, solutions: research of concepts or white label products, questions on regulations, sourcing of specific ingredients, choice of a turnkey formula or to be adapted according to your needs, standard or co-developed packaging, choice of customization of the packaging of your product ranges, production of small MOQ or large series.
Decipher the trends with our international beauty experts
Better understand your market, anticipate your customers' expectations, target your consumers more precisely: experts in skincare, makeup and trends will give you the keys to adapt your strategy.
Among the speakers of this edition, we can already confirm:
Deanna Utroske (DU's founding Consultant), who will share with you her extensive knowledge of the cosmetics industry.
Ana Allen (Cosmetic Development Consultant and Brand Architect), who will be the ambassador of this 2023 edition.
Leïla Rochet (Founder and CEO of Cosmetics Inspiration and Creation), who will decipher beauty trends through four workshops.
Karen Young (CEO of The Young Group), who will talk about the new technologies related to skincare.
The Society of Cosmetic Chemists, which will organize a conference about ingredients.
And many more to be confirmed soon…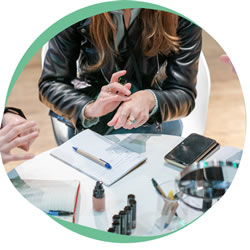 Find out about tomorrow's products
Innovation meets you at MakeUp in LosAngeles. All around you, exhibitors unveil their new products. Just walk through the aisles of the tradeshow to be captivated by a brand new skincare ingredient, and discover the applicator you've been dreaming of for your new lip gloss, or stop by a booth and test an incredible hybrid formula, and find out about the latest pouring technology by talking to a manufacturer.
Maybe these are the discoveries that will win an IT Award this year? Or others that you haven't seen yet?
For several years now, the competition has been rewarding the most innovative skincare and makeup products from exhibitors.
Formulation, turnkey solutions, packaging and accessories: a jury of international experts will select the most innovative new products, including four winning innovations, which will be highlighted during the tradeshow.
S
ave time
You are a skincare or makeup brand? You are in charge of marketing, development, R&D or even a buyer for a brand or a skincare line?
MakeUp in LosAngeles is entirely dedicated to you! Optimize meetings and new contacts, take advantage of a rich and intense program to find inspiration, advice and solutions and accelerate the growth and success of your brand.
Two days to drive your business and your strategy forward, who can beat that?