Introduction
Cosmetic cryotherapy is emerging from its elitist past to reveal itself as an accessible innovation. It embodies a harmony between technology, beauty and well-being, redefining the way we think about our relationship with cold on the one hand, and our relationship with body and mind on the other.
Cryotherapy : from health to beauty
For many years, access to cryotherapy was reserved for the happy few or beauty enthusiasts, as well as for top-level athletes using it to optimize their performance. Today, however, the use of cryotherapy is taking a new direction, as the practice is gradually becoming more democratic and becoming part of everyday beauty rituals. This development is part of a wider quest for well-being, amplified by technological advances.
Cryo-cosmetology embodies this new direction, seducing us with its range of benefits and its experimental, avant-garde horizon. It embodies a true science of cold, offering a desirable experience that revitalizes both body and mind. This marriage of science and aesthetics transcends traditional boundaries, offering an innovative approach to beauty. More than just a fad, cryo-cosmetology has become a symbol of our relentless quest for personal transformation.
Cold is the new warm
The rise of cryotherapy is part of a broader context of changing perceptions of cold as danger and suffering. This cultural phenomenon is reflected in the Artic Bath, a hotel floating on ice in Lapland, the book "The Cold Therapy Code" by James H. Smart, and Wim Hof's famous method of cold therapy. And it's also influencing fashion, as in the case of 16Arlington's FW22-23 collection, or the Balenciaga FW22-23 fashion show, or Dior's icy pop-up store in China.

New sports practices linked to cryotherapy are also emerging, such as "snowga" (yoga on snow), demonstrating the growing appeal of combining cold with physical activities. We're even seeing the emergence of cultural spaces dedicated to this therapy, such as the "Ice Cubes" cultural tourism center in China. This diversification of the fields in which cryotherapy finds its place demonstrates its expansion and growing integration into contemporary culture.
Some creative ideas for skincare and makeup marketers
THE COLORS OF COLD
A "Fresh & Clean" aesthetic emerges from this trend, focusing on polar make-up that sparkles with mother-of-pearl reflections and delicate, silky shades of blue: a diaphanous beauty that radiates soothing energy.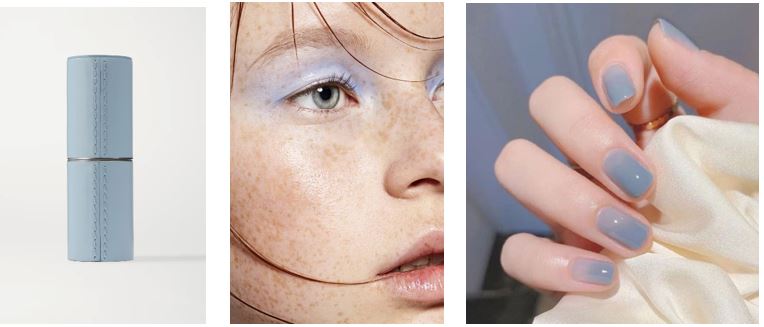 On the color side, a delicate, refreshing range of diluting mineral and watery colors takes shape. Exploring different shades of fresh blue, with a softened mauve. Ethereal whites and a cameo of nudes are treated with transparency, creating an essentialist cosmetics line optimized by technology.

We are witnessing the emergence of new beauty routines centered on the use of cold, such as skin-icing and cryo-recovery. These practices are reinforced by the use of increasingly innovative beauty tools, such as Charlotte Tilbury's "refreshing mask", 001 Skincare London's "cryo massager & serum", and Babyliss' cooling brush.
These approaches aim to protect the active ingredients in our products, promote skin repair and reactivate microcirculation, offering our skin greater potential for revitalization. Cryo-cosmetology, a refreshing technology with regenerative powers, boosts the potential of skincare products and our skin. Products embodying this trend include Holidermie's "cryo-freshening stick", Charlotte Tilbury's "decongesting cream" and Skyn Iceland's "repairing cream". These innovative products offer a beauty experience resolutely focused on refreshing and regenerating the skin.

On the skincare front, frost and the aesthetic treatments that go with it are highly praised. Soothing jelly creams and refreshing textures are gaining in popularity, as evidenced by Mono Skincare's range of products, including their Intense Moisture Serum.
These products are enhanced by opaque, pastel blended packaging, creating a delicate, sensorial cosmetics experience, similar to that of SkinCare or Beautiful Gesture Store. This particular attention to pack aesthetics reinforces the overall skincare experience, offering a visual and tactile approach that corresponds to the very essence of these beauty products.

Water is at the heart of product innovations and beauty rituals. Drawing inspiration from the icy thermal baths of Roman antiquity and the tradition of Finnish ice swimming, this approach to water cooling offers a multitude of holistic benefits.
Water-cooling rituals transcend the purely physical to encompass a complete, revitalizing and healing experience. They stimulate the body and mind, bringing renewed energy and improved overall well-being. This invigorating plunge into icy water proves to be a veritable remedy that boosts physical tone while boosting morale, offering an unparalleled experience of beauty and well-being.

Peclers Paris, the leading consultancy for creative strategy and forward-looking trends in Fashion, Beauty, Design & Lifestyle, helps brands shape their future, reveal their uniqueness and develop more desirable products, services and experiences.
Our mission
Anticipate changes in your sector and markets
Understand consumers' future desires and behaviors.
Decipher emerging consumer values
Design new territories of expression and innovative creative concepts for brands.
An international agency based in Paris, France, with offices in Shanghai – China and Los Angeles – USA.
Contact :
Discover our latest news :