The focus of the beauty business in 2023 and beyond will be on products that combine beauty with health, such as those that enhance mental, hormonal, or sexual well-being.
Along with a hyper-personalized approach to beauty, there will be a movement toward science-based skincare products that support the skin barrier and its microbiota.
As customers embrace inside-out wellness, the supplement and cosmetics sectors will converge. Healthy-looking, radiant, and youthful complexions will trend with consumers seeking products that emanate health. With well-moisturized skin, pulled-back hair, minimum makeup, sheer formulations, and a new color scheme that includes Ice Blue, Taupe, and Peach, the new natural and #CleanLook trend will continue to gain favor.
In addition to the trends I've outlined above, I've also included a few crucial ones that I believe will gain momentum soon:
Demand For Men's Beauty Products Is Growing
The male grooming style has also been greatly influenced by TikTok. While the number of searches for "men's skincare routine" has climbed 325% in the last five years, the hashtag #mensskincare presently has almost 1 billion views on TikTok. Male cosmetics and makeup are becoming more popular among males. 15% of American men between the ages of 18 and 65 now use these products, and 17% would consider doing so in the future.
Hyper-Personalization & Technology-driven Beauty
The industry is now beginning to understand that identical ingredients, product formats, and colors don't function the same for every user. Beauty companies are starting to leverage augmented reality and advanced biotech to hyper-personalize product selection or develop solutions that are specific to a person's individual skin concerns, complexion, makeup needs, preferences, and lifestyle. This may involve individualized packaging, textures, or even ingredients.
Product customization is now also possible thanks to technology like interactive online quizzes, AI-analyzed customer data, augmented reality (AR), and virtual try-ons.
Science-based ingredients
Innovations, consumer interest in scientifically based active ingredients, and product performance drive the beauty market. Consumers of beauty products nowadays are knowledgeable about ingredients, product-hungry, and keen to follow and adopt trends. They do insist that the ingredients in their cosmetics and skincare products are kind to the skin, have been well-researched, and shown to be beneficial for general skin health. Novel ingredients and exclusive technologies are in demand and are viewed as unique and deserving of a premium price point.
Marine is the new green, clean and sustainable Beauty
Ocean-derived ingredients, which come from fish, algae, seaweed, and other marine plants, have grown in popularity recently because of their potential advantages for the skin and antioxidant and skin-nourishing characteristics. As they are produced from renewable resources and are frequently obtained in an environmentally benign way, marine ingredients are popular because they are natural and sustainable (which is in line with the rising demand for sustainable beauty products).
Several marine elements may be found in skincare and cosmetics, including the following:
Seaweed and algae: In addition to hydrating and soothing the skin, reducing inflammation, and enhancing the skin's natural barrier function, seaweed and algae are also high in vitamins, minerals, amino acids, and antioxidants, which help promote skin elasticity and firmness.
Marine Collagen: Fish scales or skin are the source of marine collagen, which has a lower molecular size and is better absorbed. It can support a more youthful complexion, enhance skin texture, and lessen the visibility of fine lines and wrinkles.
Sea Salt: Sea salt is a natural exfoliator that can help clear clogged pores, exfoliate dead skin cells, and improve the appearance of the skin. Additionally, it has minerals that help even out the natural oils on the skin and enhance skin tone.
Sea Kelp Bioferment: Made from kelp and prized for its ability to moisturize and mend skin. It can aid in enhancing skin texture,reduce redness, and enhance the overall health of the skin.
Marine Extracts: Various marine extracts, such as brown algae, red algae, and sea fennel, have been incorporated into beauty products for their antioxidant and anti-inflammatory properties. They can help protect the skin from environmental stressors, soothe irritation, and improve overall skin health.
Inclusive Beauty – Embracing Diversity:
As the beauty industry learns to understand that beauty comes in many forms, sizes, and colors, there has been a growing emphasis on diversity and inclusiveness.
By broadening their already robust shade ranges, brands try to accommodate a larger spectrum of skin tones. Models from all origins are increasingly being used in marketing campaigns, and there is a growing emphasis on respecting each person's individuality and portraying multiple beauty standards.
Skinimalism and Modest Makeup Looks:
There has been a shift towards embracing natural skin and little makeup. With a focus on achieving a healthy, radiant complexion, this style emphasizes skincare as the foundation of beauty. The goal of modest makeup looks is to highlight and enhance natural features.
Multi-tasking Hybrids and Multifunctional Products:
Consumers are looking for skincare and makeup products that boast multiple benefits. This includes multi-purpose cosmetic items that may be applied to various parts of the face as well as products that offer hydration, UV protection, and color correction all in one.
Skinification of Makeup (Skincare-forward Make-up) and Preventive Beauty:
Color cosmetics brands are embracing and adopting a skincare-first philosophy and emphasizing the skin benefits of their products, such as comprehensive protection and long-term skin health benefits. As more consumers adopt a preventative approach to beauty and recognize that protecting their skin from the harmful effects of UV radiation is essential, beauty brands incorporate sunscreen into make-up formulation products like foundations, tinted moisturizers, and BB creams. As a result, they offer consumers a practical and effective approach to include sun protection into their daily beauty routines. This trend appeals to individuals who may not otherwise apply sunscreen separately or may be reluctant to layer multiple products on their skin and resonates with those looking for a simplet skincare routine without compromising on the importance of sun protection.
No Makeup Makeup with a Twist: The 'Clean Girl' look
The "no-makeup" makeup style celebrates originality and uniqueness, puts the spotlight on a youthful complexion, and emphasizes enhancing rather than concealing one's features. Lightweight, nourishing foundations "perfect" the skin, allowing freckles and other tiny flaws to show through, with a little help from undetectable, "barely there" makeup—just highlighters and bronzer to sculpt and define, followed by a dewy lip.
I believe the minimal makeup look will continue to headline as consumers invest in aesthetic procedures (i.e., neurotoxins, lip fillers, brow lamination, lash tint, and lash curl) to enhance their natural beauty and feel they no longer need to use a lot of color cosmetics to feel beautiful. They rely on more subtle, understated makeup and a few touch-up products to keep the look fresh.
Fun fact: The #CleanGirl look hashtag has more than 750 million views on Tik Tok.
TikTok as a Source of Beauty Trends:
According to Mintel, 69% of Gen Z learn about beauty through TikTok.
Here are some notable trends that resurfaced on TikTok:
Empty Eyeliner:
The look was first shared by @lenkalul (Lena Bagrowska), whose video has already had 7.2MM views and 605K likes. To get the effect, make a smokey eye with any preferred hues, then blend it out to create a sharp-edged shape that resembles the area where conventional eyeliner would be placed. After doing this, users are told to delicately run a Q-tip dampened with makeup remover or micellar water down the lash line and prolong it to give the appearance of eyeliner.
Skin Barrier:
The hashtag #skinbarrier has 302.2 million views on TikTok!
Everyone is aware that healthy skin looks and feels wonderful because of a strong skin barrier. A good skin barrier will keep moisture in, giving skin a smooth, young appearance and feel. As a result of this trend, beauty manufacturers increasingly include compounds like ceramides, antioxidants, and squalane that restore and repair the skin barrier.
Ancient beauty comes back
The resurgence of ancient beauty practices and ingredients in modern cosmetics can be attributed to a growing interest in natural and time-tested remedies. Traditional beauty rituals that have stood the test of time are highly sought after by consumers. Many age-old beauty remedies passed down through generations are now being rediscovered and incorporated into contemporary skincare and cosmetic products. Here are a few examples of how ancient beauty has found its place in modern cosmetics:
Ayurvedic Ingredients: Turmeric, neem, and sandalwood have gained popularity due to their anti-inflammatory, antimicrobial, and skin-brightening properties.
Traditional Chinese Medicine (TCM) Ingredients: Botanicals and herbs like ginseng, goji berries, and green tea have gained popularity due to their antioxidant and rejuvenating effects.
Greek and Roman Influences: Ingredients like olive oil, honey, and herbs gained popularity due to their hydrating, anti-aging, and soothing properties.
Moroccan Argan Oil: Argan oil gained popularity due to its high content of essential fatty acids and antioxidants.
Indigenous Beauty Practices: Beauty brands started working with indigenous communities around the world to ethically source ingredients like marula oil and shea butter, which gained popularity due to their nourishing and moisturizing properties.
Traditional Korean and Japanese Beauty (K-Beauty, J-Beauty): Ingredients like snail mucin, rice, and fermented products, gained popularity due to their brightening, hydrating, and skin-renewing properties.
The beauty industry had evolved into a realm of innovation and simplicity. Personalized solutions, natural ingredients, minimalistic routines, and the integration of technology had become the pillars of this new era. I'm eager to attend the Makeup in NewYork event in September 2023 and learn about the latest trends in beauty. I'll make sure to update you.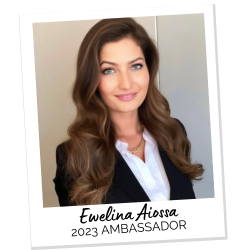 Ewelina Aiossa
Co-Founder, Clinical Skin
MakeUp in New York 2023 Ambassador
Learn more about Ewelina and The Beauty Tank!